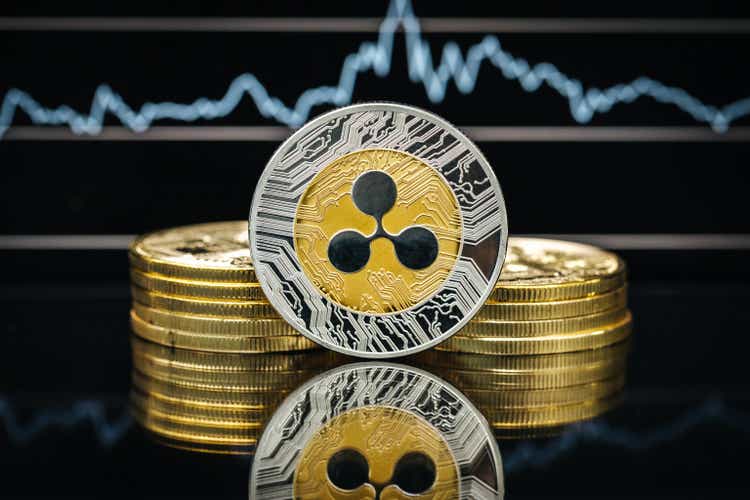 XRP (XRP-USD) soared 74% on Thursday after a U.S. District Court judge ruled that XRP isn't a security in terms of Programmatic Sales, meaning sales to the general public.
However, it denied Ripple Labs' motion for summary judgment regarding Institutional Sales. The court will issue a separate order to set a trial date in due course, U.S. District Judge Analisa Torres said in the decision.
Also helping the digital asset, Coinbase Global (NASDAQ:COIN) said it's restarting XRP trading after the ruling. XRP jumped to $0.81, its highest level in more than a year, after the news.
In 2020, the Securities and Exchange Commission filed a lawsuit against Ripple Labs and two of its executives, alleging that the company raised more than $1.3B through an unregistered digital asset securities offering. The SEC contends that most cryptocurrencies fit the definition of securities, though it hasn't made that accusation against bitcoin (BTC-USD) or ethereum (ETH-USD), the two largest cryptos by market cap.
Other cryptocurrencies also jumped in Thursday trading. Bitcoin (BTC-USD), the world's largest crypto by market cap, gained 4.2% to $31.6K, ethereum (ETH-USD) rose 6.6% to almost $2K, cardano (ADA-USD) jumped 21%, litecoin (LTC-USD) +7.1%, and polygon (MATIC-USD) +18%.
Crypto-related stocks also climbed. Coinbase Global (COIN) surged 25%, Marathon Digital (MARA) +15%, Riot Platforms (RIOT) +15%, Hut 8 Mining (HUT) +19%, Hive Blockchain (HIVE) +17%, Bakkt Holdings (NYSE:BKKT) +19%.
More on Ripple: