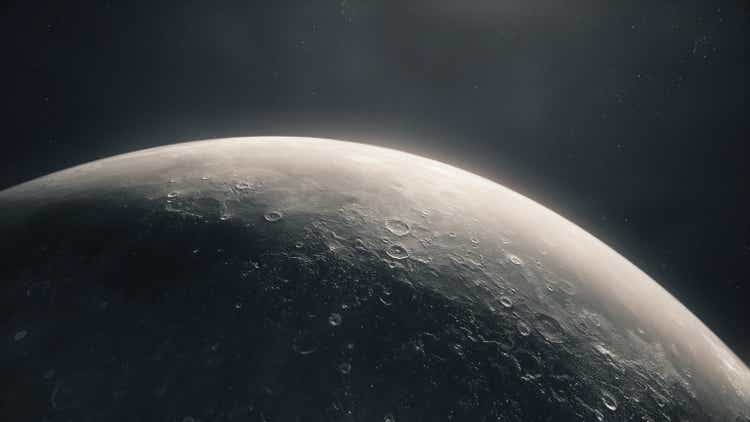 The space sector could have a busy day on Friday with several launches planned as the event cadence continues to pick up.
India will launch Chandrayaan 3 as it looks to join the U.S., China, and the former Soviet Union as the only nations to have landed a spacecraft on the moon. Chandrayaan consists of a lander and a rover, both with scientific instruments. The actual touchdown on the moon is expected near the south pole in late August.
Also on Friday, SpaceX (SPACE) aims to launch 54 of its Starlink internet satellites from Florida. A recent funding round for Elon Musk's SpaceX (SPACE) reportedly took the closely-held company's valuation to about $150 billion. Last week, SpaceX (SPACE) successfully deployed more than 50 additional satellites for its Starlink constellation of satellites that offer broadband internet access in multiple regions. SpaceX (SPACE) may spin off Starlink when its cash flow is more predictable.
Rocket Lab (RKLB) also has a launch planned for Friday. is planning a launch of its own from New Zealand on Friday afternoon. The 'Baby Come Back' mission, Rocket Lab's 39th Electron launch, is scheduled to deploy from Pad A at Rocket Lab Launch Complex 1 in Mahia, New Zealand. Rocket Lab (RKLB) is also planning to conduct a marine recovery of Electron's first stage as part of this mission. The launch company's recovery team will retrieve Electron using a customized vessel and transport the stage back to Rocket Lab's production complex for analysis. Data from this recovered stage will inform Rocket Lab's ongoing recovery and reuse program. Morgan Stanley is bullish on Rocket Lab (RKLB) on its view that the company is making space look easy while others demonstrate how hard it can be.
Elsewhere, Virgin Galactic Holdings (SPCE) gained 5.50% on Thursday after the space tourism company announced that the flight window for its second commercial spaceflight will open August 10. The Galactic 02 mission will be the second commercial mission and the seventh spaceflight for Virgin Galactic (SPCE).
Space stocks: Rocket Lab (RKLB) is a top ten holding of the Procure Space ETF (NASDAQ:UFO), along with Sirius XM Holdings (SIRI), Trimble, Eutelsat Communications, and Garmin Ltd (GRMN). ARK Space Exploration & Innovation ETF (ARKX) has Trimble (TRMB), Iridium Communications (IRDM), Kratos Defense & Security Solutions, AeroVironment (KTOS), L3Harris Technologies (LHX) as top holdings.