The European smartphone market experienced its worst first quarter in nearly a decade and analysts at Counterpoint Research warn that things will get even worse before they get better.
The market fell 12% compared to the first three months of last year. With only 49 million smartphones shipped, this was the worst Q1 since 2013. Only one of the Top 5 brands experienced growth – Realme doubled its market share.
Samsung remains the top smartphone maker on the Old Continent. However, its shipments are still down 16% compared to Q1 last year. Apple actually edged up a percentage point (year over year), but its shipments also declined slightly (-6%).
The first quarter of this year saw the launch of Samsung's Galaxy S22 series and Apple's affordable iPhone SE (3rd generation), but they couldn't resist the overall downturn of the market.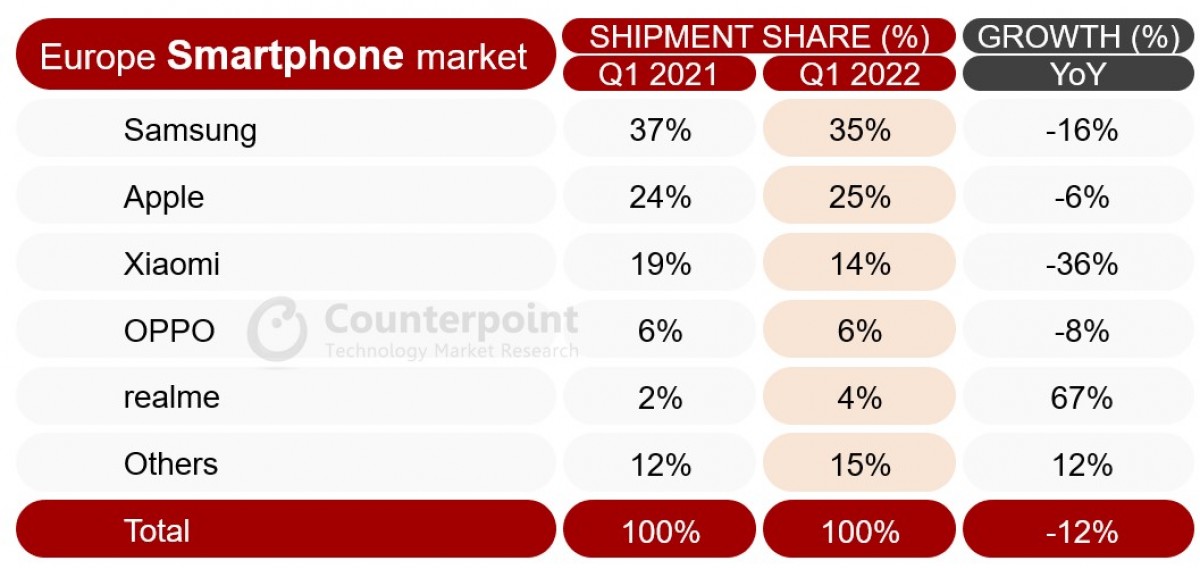 The downturn was caused by multiple factors – components are still in short supply, which is made worse by COVID-19 related lockdowns in China, there is also rising inflation and the war in Ukraine.
The war affects the market in a couple of ways. First, Samsung and Apple pulled out of Russia. They used to ship around half of all smartphones in the country (those shipments were only 6% of the total in Europe, though). The companies pulled out near the end of the quarter, so the full effects will be felt in Q2.
This is part of why the analysts believe things will get worse in the second quarter. It's not just the phone shipments either, the war could reduce the availability of raw materials used to build electronics. Also, European countries are seeing sharp increases in the cost of living, so fewer people will be buying new phones.
Continuing down the list, Xiaomi suffered the biggest drop – its shipments are down 36% compared to last year. Oppo maintained its share relative to the others, but that still means fewer phones shipped (note: Oppo's numbers include OnePlus). Realme is counted separately and it moved 67% more phones than in Q1 2021, so it doubled its market share.
Last year the European market was on the road to recovery as it grew by 8% (relative to the weak 2020). That recovery has halted with a drop in Q1 and a dark forecast for the Q2 (and even several quarters after that).