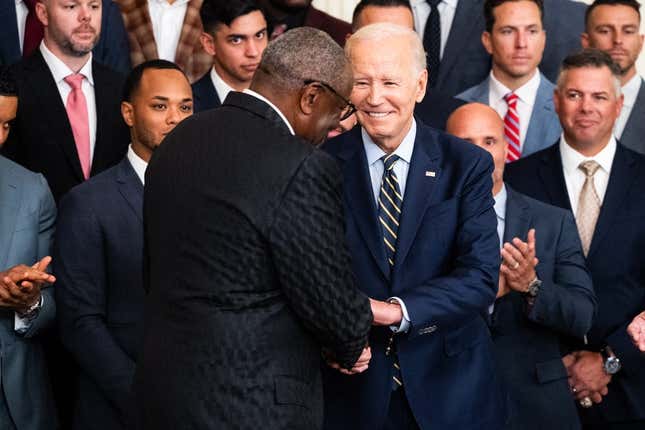 The World Series champion Houston Astros visited the White House on Monday, with their age-defying manager Dusty Baker finding a kindred spirit in the oval office
Being part of the Miracle on Ice | Alex Edelman's Ultimate Sports Fantasy
"Houston has the best baseball fans in America. We couldn't have done it without their support," said Baker, 74, in a ceremony recognizing Houston's World Series win last season. "I said once we won one, we'd win two. I like to keep my word.
President Joe Biden said he watched Baker play during his 18-year MLB career and respects that he became the oldest manager to win the World Series in 2022
As Biden upramps his own re-election bid and attempts to repeat with four more years in the White House, he said he can relate to Baker in more ways than one
"People counted you out, saying you're past your prime. Hell, I know something about that," Biden said. "There were plenty of folks rooting for the Astros, but the whole country was rooting for Dusty Baker.
Third baseman Alex Bregman and shortstop Jeremy Pena met with media outside the ceremony, where Bregman said he enjoyed the best lemonade he's ever had
"It's a special honor to be here celebrating a great season," Bregman said. "Definitely an honor to be here. Hopefully we play well enough to get back.
–Field Level Medi